Lu Xun Native Place is the place where Mr. Lu Xun was born and lived in childhood and adolescence. Now, it is one of China Top 100 Red Tourism Classic Scenic Areas, Key Cultural Relic under National Protection. National Top 100 Patriotism Education Demonstrative Base, National 5A Scenic Area and First Batch 20 "National Research and Study Tourism Demonstrative Base".
As the most well-preserved historic blocks with richest cultural connotation and most typical features of watertown and ancient city in Shaoxing City, Lu Xun boasts unique resources and a large batch of Lu Xun-relevant cultural relics, including Former Residence of Lu Xun, Baicao Garden, Sanwei Study, Ancestral Residence of Lu Xun, Tugu Temple, Changqing Temple, Garden of Folk Customs in Lu Xun's Works, Lu Xun Life Stories Exhibition Hall. They are real venues for tourists to know better about Lu Xun's works, appreciate the folk customs in Lu Xun's works and experience Lu Xun living condition at the time.
According to the spirit of documents issued by the Propaganda Department of Central Committee of CPC in June 2008, Lu Xun Native Place Scenic Area is open to the public for free and annual receives tourists of 2 million person times. It has become a must-visit scenic area for tourists in Shaoxing.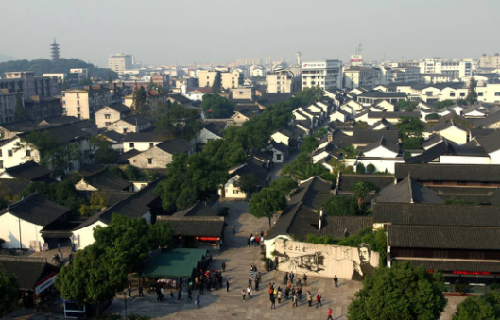 Former Residence of Lu Xun (New Mansion of Zhou's Family)
Established in Qianlong reign of Qing Dynasty, the old mansion of Zhou's family was the house where the ancestors of Lu Xun lived from generation to generation. The mansion faces south and is featured by black tiles, white walls, masonry-timber structure. It is composed of the foyer, the main hall and the incense hall and is one of the most well-preserved Qing Dynasty mansions in Shaoxing at present. "Deshou Hall" was the place for receiving guests and holding wedding, funeral, worshiping ceremony and other large-scale activities。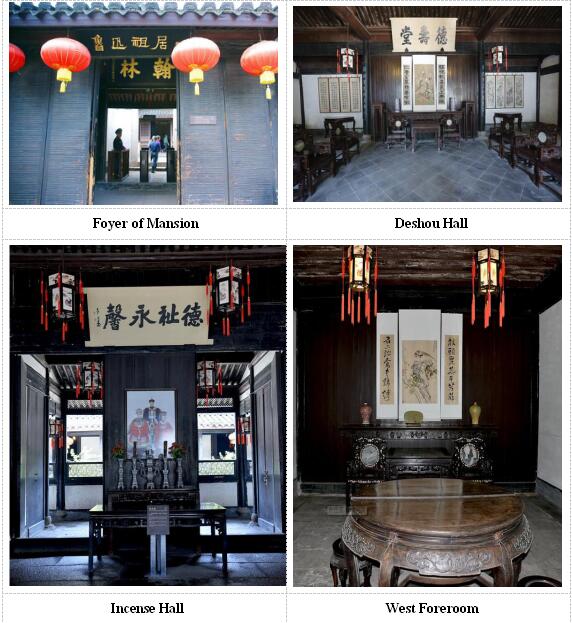 Former Residence of Lu Xun was established in Jiaqing reign of Qing Dynasty. The building include three halls and is composed of the foyer, hall, side compartment and miscellaneous room. On Sept. 25th, 1881, Mr. Lu Xun was born here and the well known Baicao Yuan was inside the building. Mr. Lu Xun spent his childhood and boyhood here and left many interesting traces here.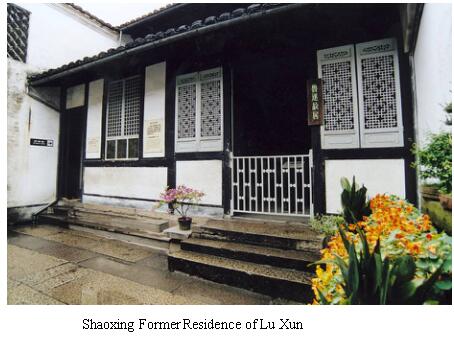 Baicao Garden
Baicao Garden was originally a deserted vegetable garden shared by clansmen from New Mansion of Zhou Family. In the famous essay titled "From Baicao Garden to Sanwei Study", Lu Xun recalled that, "Behind my house there was a big garden named Baicao Garden...... Although it was almost definite that only wild grass grew there, it used to be my paradise". Baicao Garden represents the foot of the short mud wall, the green vegetable beds, the sleek stone well brandrith, the high honey locust and purple mulberry and arouses in your mind's eyes the scene of Lu Xun catching cricket, looking for the centipede, picking the raspberry and pulling out polygonum multiflorum vein.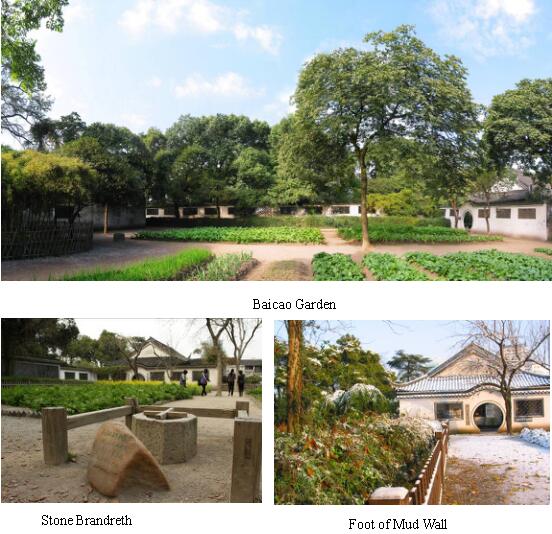 Sanwei Study
Sanwei Study was a prestigious private school in Shaoxing at the time. In "From Baicao Garden to Sanwei Study", Lu Xun wrote, "Within 250m east from the gate of the my house there was a stone bridge. My teacher's house was right across the bridge. The study was the third room from the black oily bamboo gate. A horizontal stele was hanging in the middle of study, which read:Sanwei Study; ...." Lu Xun started to study here at age of 12 and totally studied for about 5 years.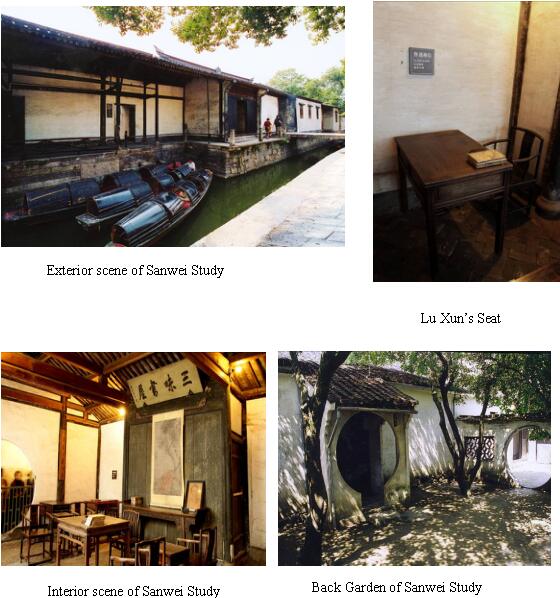 Memorial Hall of Lu Xun
With land area of 6000 square meters and total floor area of 5000 sqm, Memorial Hall of Lu Xun is identical with traditional lanes in text based on the design concept of "New space in old house". The exterior of the Memorial Hall adopts the architecture style of Shaoxing vestibule gate and the main entrance adopts Shaoxing traditional bamboo filament vestibule gate. "Lu Xun Life Stories Exhibition" reflect the achievements of Lu Xun in his life and his ideology evolution track in annalistic style in sequence of time, while highlighting Lu Xun's original relationship with his hometown Shaoxing with distinctive Shaoxing regional features.